As part of our most recent month of training in Indonesian language and culture at the Wisma Bahasa school in Jogjakarta, we got to go on two half-day 'field trips'. Because we had already been all the 'standard' tours on offer at least once (the Kraton, Borobodur, Prambanan, Pasar Beringhardjo, Kota Gede, Imogiri etc) we were asked where else we'd like to go.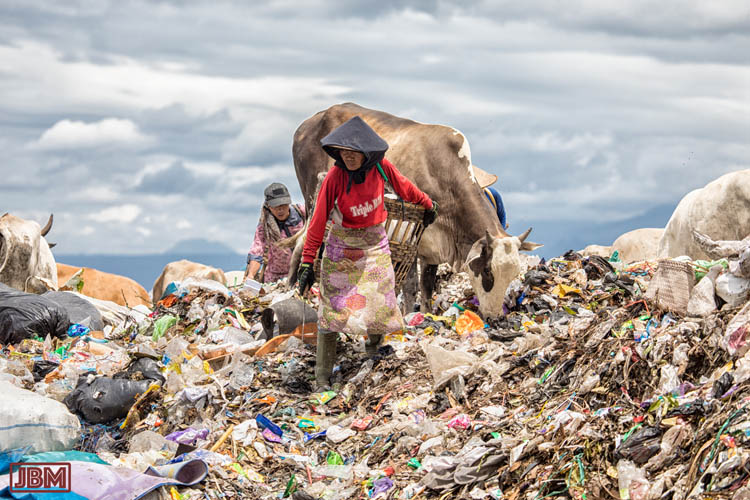 So (of course!) we nominated the Tempat Pembuangan Akhir (TPA) – the local garbage disposal facility and landfill site. After some efforts to dissuade us ("It smells REALLY bad!, you know" "It's muddy, filthy, and unsanitary!" "You'll need to wear a mask") it was agreed, and Mas Anof kindly consented to accompany us there.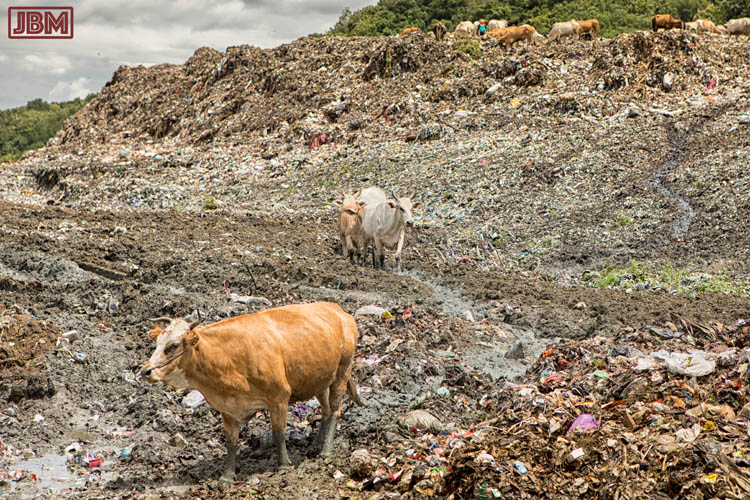 The TPA has been in operation near the village of Piyungan, about 16km southeast from central Jogja, since 1995. The site, which covers 13 hectares, is the final site of waste disposal for the city of Jogjakarta, as well as the adjacent Kabupaten (districts) of Bantul and Sleman.
It was constructed in three stages, with a total planned capacity of some 1,300,000 cubic metres. That's a big heap of garbage. Due to the sheer volume of accumulated waste at the site, and also because of its location amongst some (rather scenic) limestone karst formations, it's known as the 'Gunung Sampah' (the 'Garbage Mountain').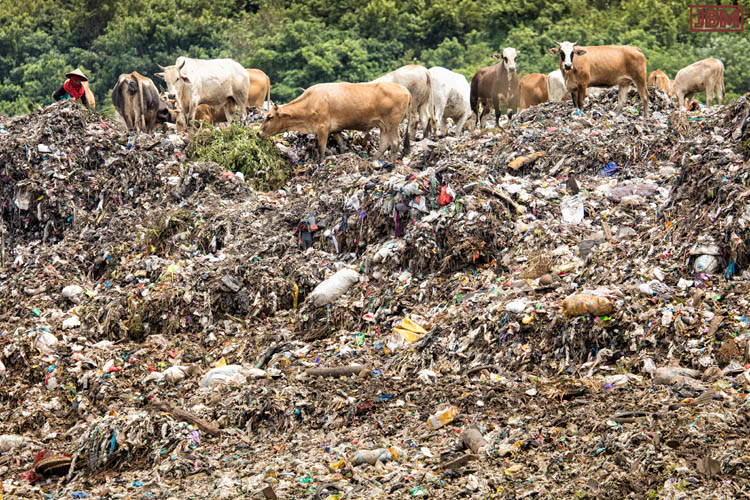 In addition to the many people who live and work in the area, the TPA is home to hundreds of cattle, who feast on the waste vegetable matter, leaves and tree prunings that get dumped there. They roam freely over the site, and are remarkably healthy-looking – considering their diet and habitat. They are owned by the families who live and work at the site.
One owner told me that they sell the meat from the cattle at the public markets. We were instantly attracted to vegetarianism.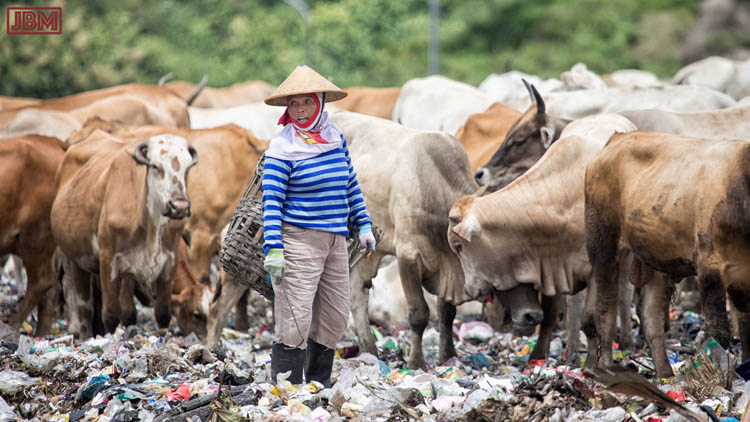 People and cattle mingle freely across the site, seemingly oblivious to each others presence.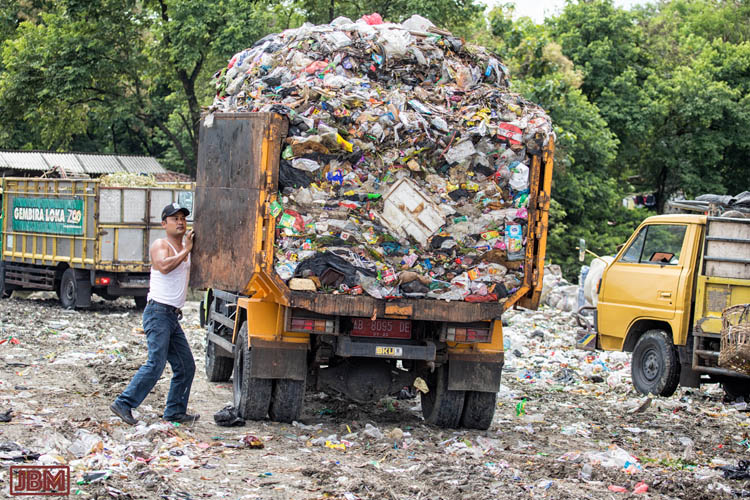 A steady procession of trucks and utilities arrive, each loaded to the brim (and above) with garbage.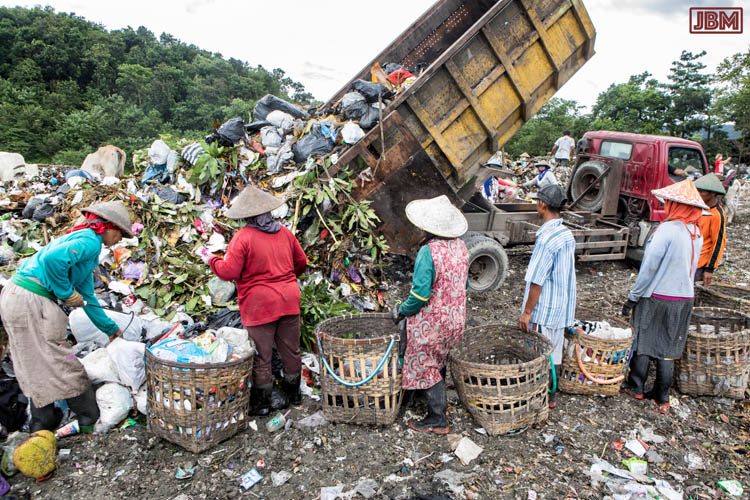 As each load is dumped, groups of workers arrive to sort through the load, looking for bottles, recyclable plastic and paper – and anything else that might be of value. They are usually referred to as pemulung (scavengers), but it may be more respectful to call them pengumpul barang bekas (collectors of used goods).
I don't know how many pemulung currently work at the TPA – but back in 2007 there were 225.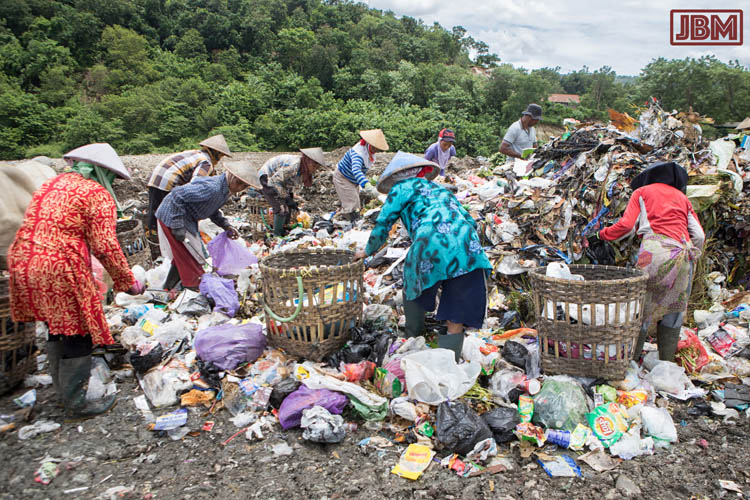 They only get paid for what they collect, so they work with speed and efficiency, without a lot of 'workplace chatter'. There are roughly equal numbers of men and women, and (pleasingly) we didn't see any children. Most of them wear the conical Javanese 'caping' hat as protection from sun and rain, and most are very sensibly kitted out in gumboots. Many wear gloves, but all carry a short pole with a hook on the end to pick up recyclable plastic and paper, which is then dropped into a large bamboo basket.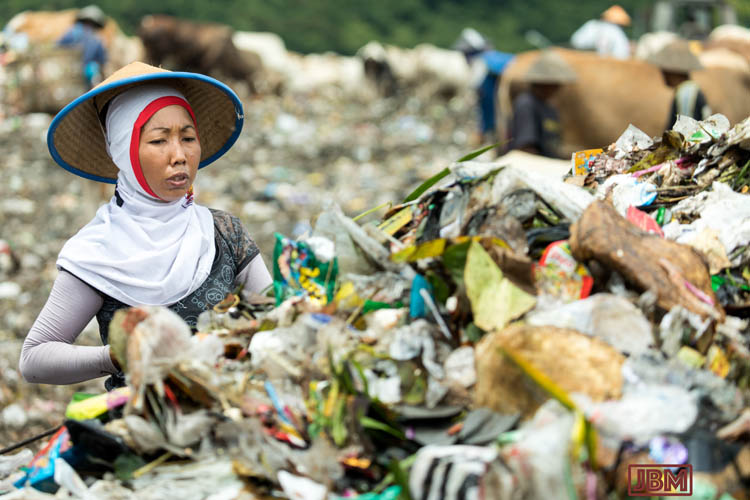 Each pemulung gives her or his collected stuff each week to a particular 'skipper' (juragan), each of whom may 'oversee' between 10 and 20 pemulung. The juragan recruits the workers, many of whom come from Pantai Baronan, on the far east coast of the Jogjakarta region.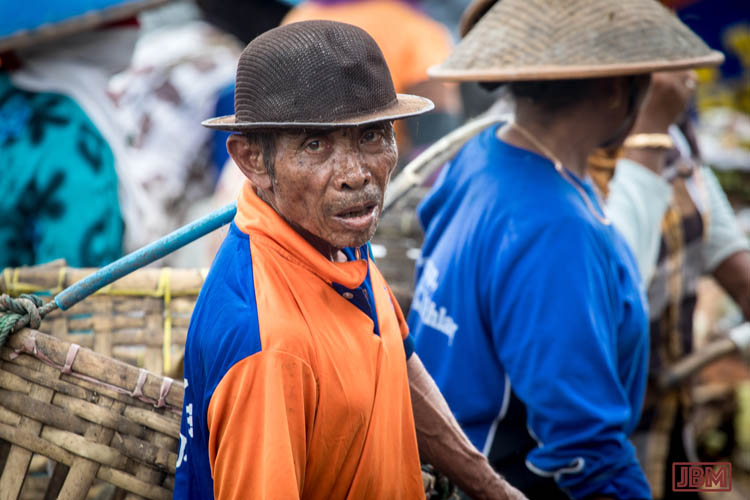 We were told that a good pemulung can make a 'reasonable' amount of money in a day, enough that they don't have to work every day to get enough for subsistence living. And if you didn't have to work there every day – why would you?
We found out later that they can earn around Rp600,000 to Rp700,000 per month (around AU$70 – just over $2 per day). That's if they are fit and healthy, which is not always the case.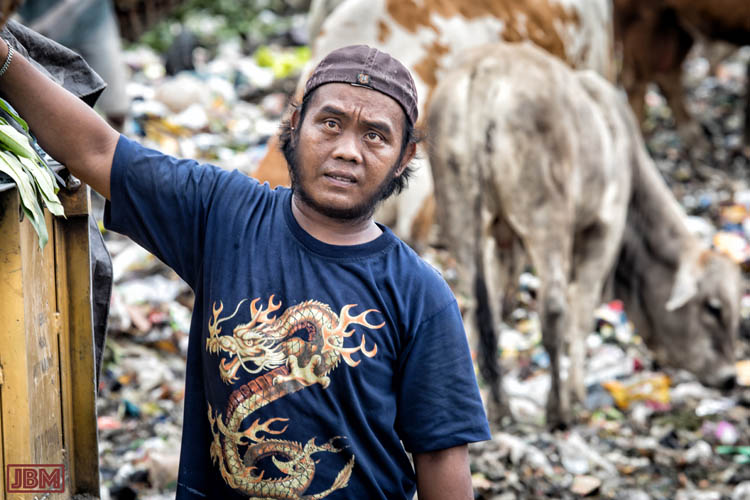 There is no sick leave, superannuation or holiday pay. Possessing no capital resources, little or no formal education, and no control over the prices they are paid for their work, they have little or no opportunity to escape from this workplace.
The work is also dangerous. On 21 February 2005, an 'avalanche' at the another landfill site (Leuwigajah, near Bandung), buried 71 houses and killed some 143 pemulung and others at the site.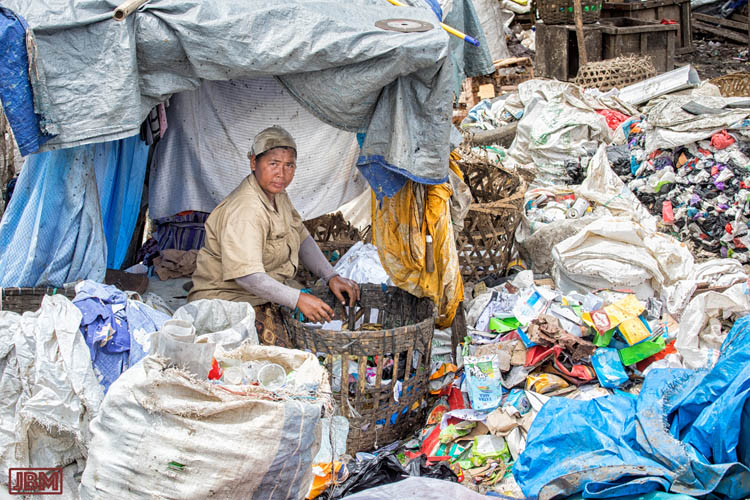 At first we were quite reticent about photographing the people at work, thinking that they might feel shamed or disrespected by being pictured doing such a dirty and menial activity. The negative connotations of 'poverty porn' came to mind.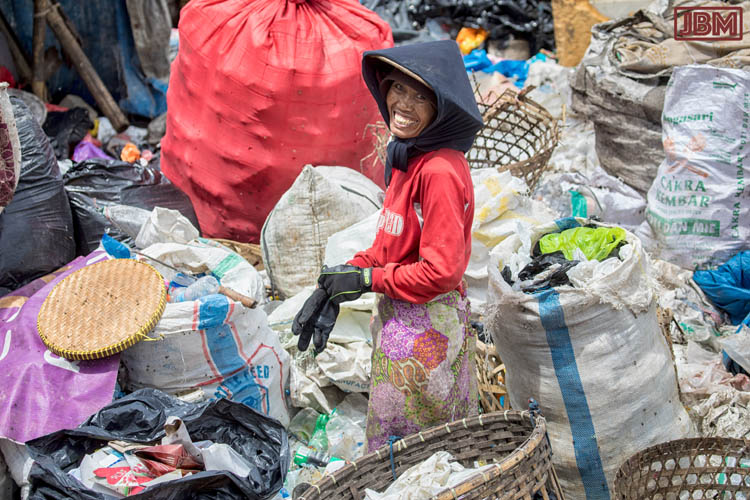 But no-one declined when asked to be photographed, and some seemed to rather enjoy the attention.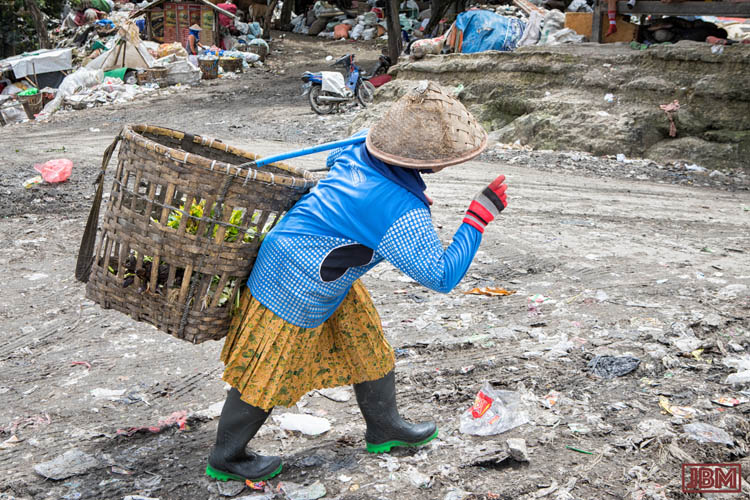 Mostly, though, everyone was so focussed on their work that they largely ignored us, apart from responding to the usual greetings, and asking the 'where-are-you-from' type questions.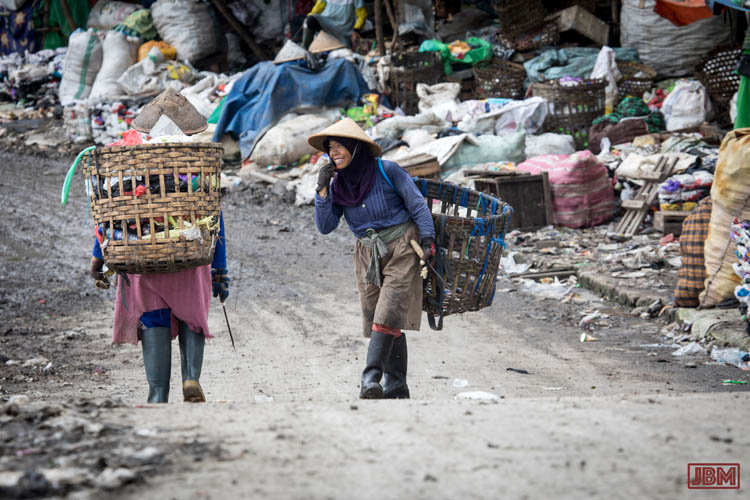 The pemulung actually provide an important service. It's estimated that 20-30% of the waste dumped at the TPA is recycled (including that portion which is eaten by the cattle). Without this reduction to the volume of waste the landfill would have exceeded capacity several years ago.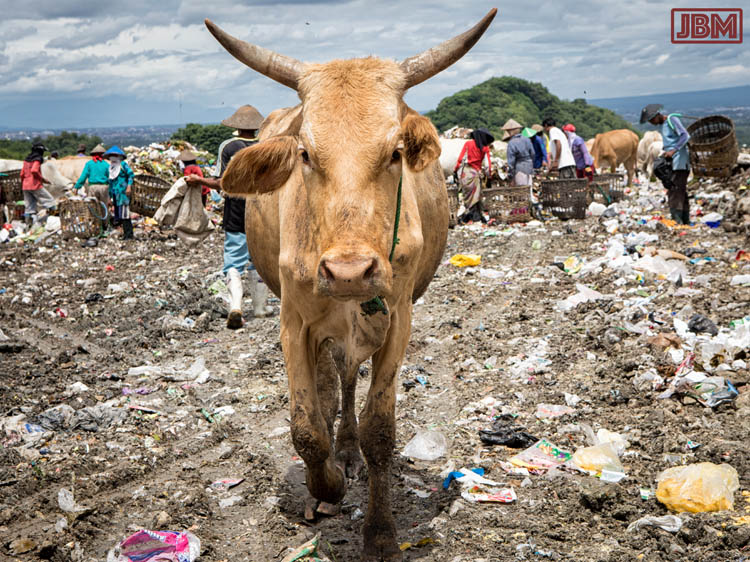 It's good to see what happens to our waste after we throw it out, and it was a fascinating, shocking, thought-provoking, outrage-inducing experience to visit the Jogja TPA. And yes, it is a smelly place, and our clothes (and especially shoes) needed professional cleaning before they could be worn again.