Indonesia has a sweet tooth. Syrupy snacks and cakes are hugely popular, and it can be challenging to order a cup of tea or coffee without it being liberally dosed with sugar. I've been asked, somewhat incredulously: "Apakah Anda benar mau minum kopi tanpa rasa?" ("Do you really want to drink coffee without flavour?) Even 'plain' bread is likely to be sweetened.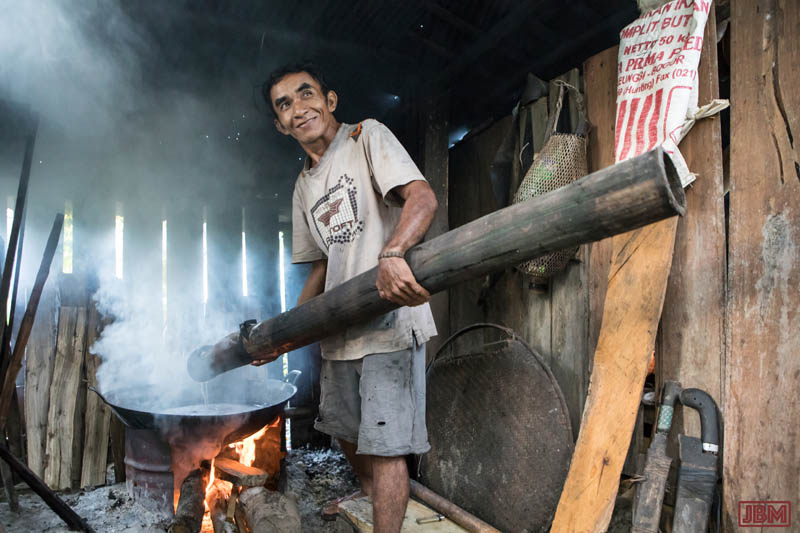 Cane sugar
Across the country there are 1.3 million families engaged in sugar cane cultivation, and 63 operational sugar mills (most of which are over 100 years old). But local production accounts for less than half of the mountain of sugar consumed. The rest is imported.
The 'average' Indonesian consumes around 25kg of refined sugar per year. So imagine a big white mountain containing 5.7 million tonnes of sugar – that's how much Indonesians are forecast to consume this year.
But despite Indonesia's reputation as a nation of sugar-lovers, it might (or might not!) be surprising to find that the Australian per capita consumption is 50% higher than Indonesia's – and that the US average is even higher again. In fact, Indonesian consumption is actually close to the worldwide average – if still higher than the World Health Organisation's 'recommended' maximum consumption of 18kg.
Palm sugar
However, in Indonesia, cane sugar is only part of the story. Sugarcane plantations have only existed since the Dutch colonial time. Prior to then, and continuing to the present day, Indonesians produced a variety of palm sugars, usually collectively referred to as 'gula merah' (red sugar).
Palm sugar can be made from the sap of Nipa palms (Nypa frutican), Toddy (or Lontar) palms (Borassus flabellifer) or, most commonly, from the Coconut palm (Cocos nucifera). Coconut palm sugar is known locally as gula kelapa or gula jawa. It is sometimes sold as a blend of the genuine palm sugar and (cheaper) cane sugar.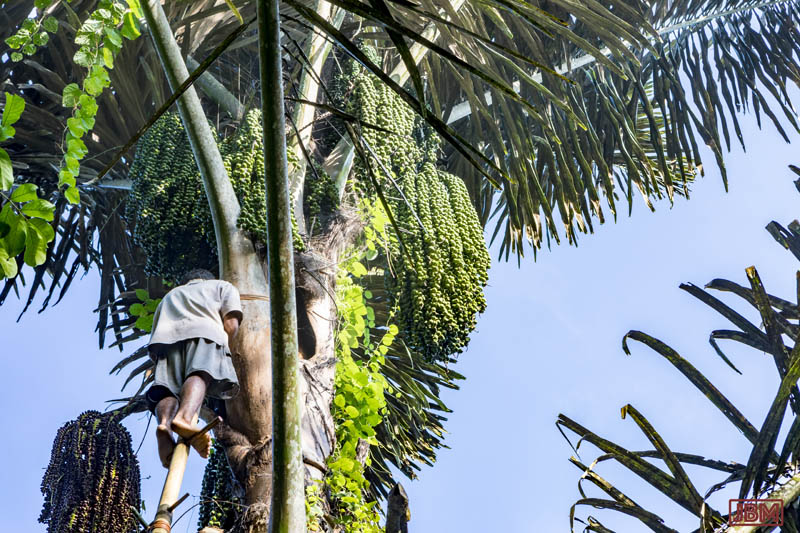 The best quality palm sugar is derived from the sap of the Aren palm (Arenga pinnata). This sugar (gula aren) is regarded as more fragrant and richer than gula kelapa – and it is both less common and more expensive.
We were fortunate to witness the whole process of making gula aren while staying in Kedang Ipil, a village a few hours' by road west of Samarinda, in Kutai Kartnegara, East Kalimantan. We were taken there by our wonderful and indefatigable guide Innal Rahman.
Pak Hairo has ten mature Aren palms. He 'owns' them – but not the land that they grow on – with his exclusive right to tap them indicated by the bamboo ladders that he built to climb up each one. For the people of Kedang Ipil, it's a valuable plant; the young fruit can also be eaten, and the fibrous material of the trunk is widely employed as a roofing material.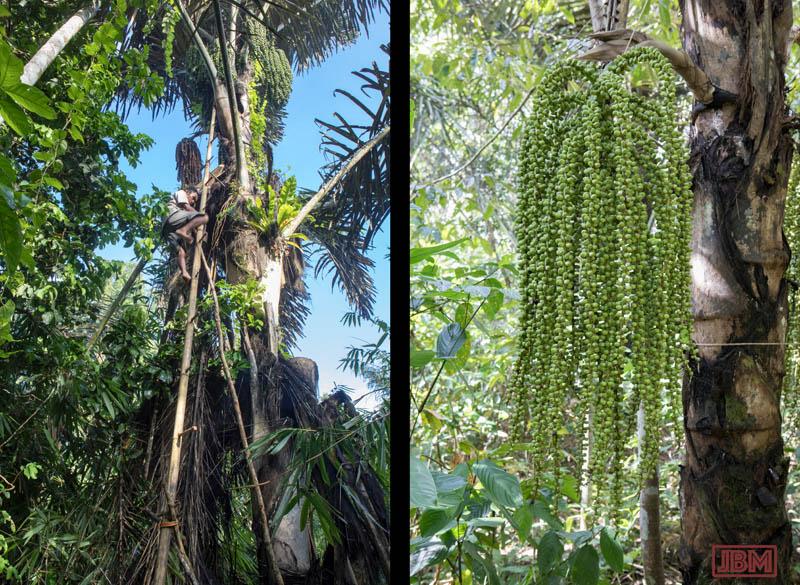 The palms are scattered around the forest which surrounds the village, as – unlike the much-maligned African Oil Palm (Elaeis guineensis) – the Aren palm is not well suited to plantation cultivation, preferring to grow in mixed forests. They grow to over 20 metres tall, and begin to produce flower stems, from which the sweet sap is obtained, after 10-15 years.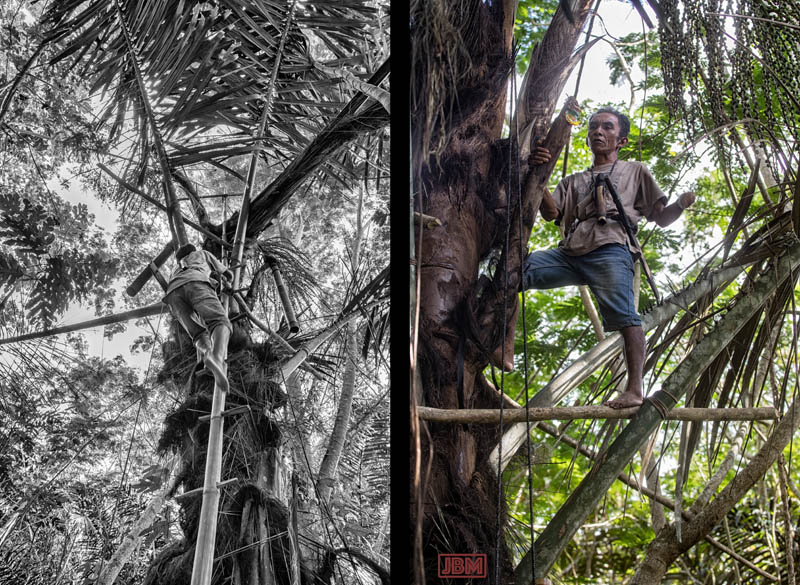 Pak Hairo collects the sap twice daily (at around 6:00am and 4:00pm) from those Aren palms that are currently in production, using a 2 metre length of bamboo to capture the sap. Before each use of the bamboo, he goes through an elaborate process of cleaning the inside of the bamboo with hot smoke. This ensures that the surface is clean and free of bacteria, so that the sweet sap won't begin to ferment before it can be rendered down to make blocks of gula aren.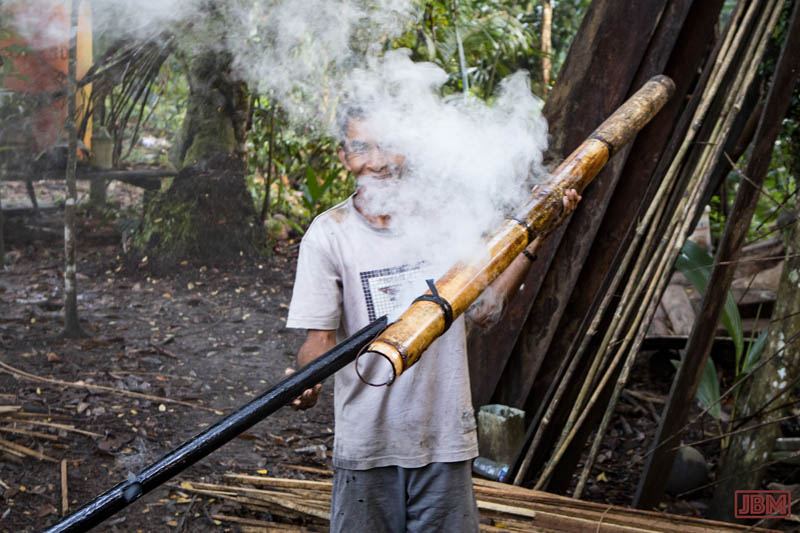 Once in the forest, he climbs up a precariously balanced ladder to the fruiting branch, carrying an empty length of bamboo, and the special sharp knife he uses to make incisions to release the sap.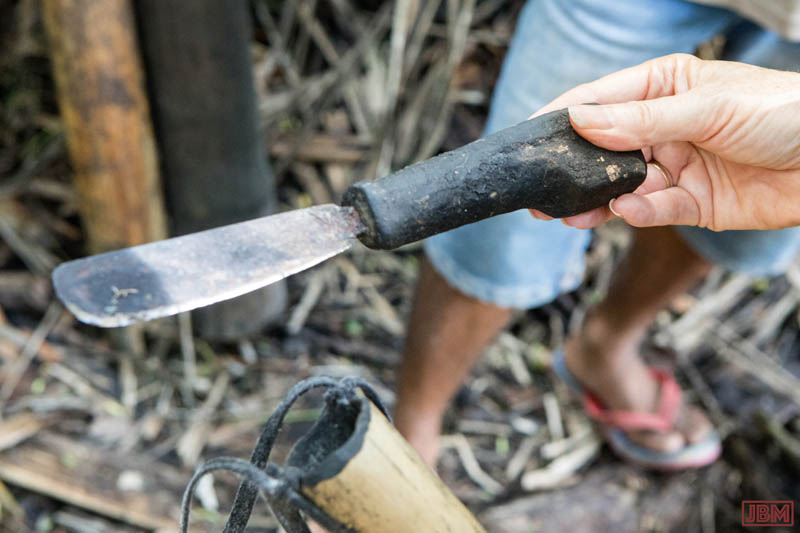 He removes the full (and now very heavy) bamboo from his previous visit, and then a new incision is made – with great care. The cut must be made at just the right and angle and depth; if not, less sap will be released, and the productive time of the flower stem – which can up to six months – will be reduced.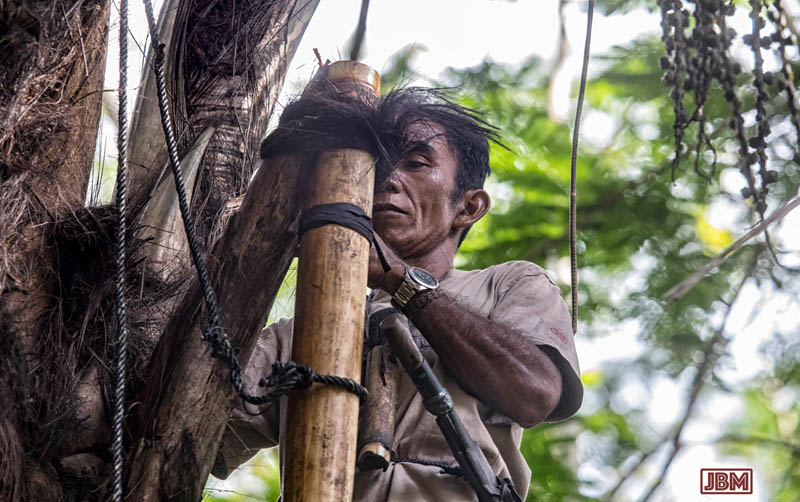 Once the new bamboo is in place, he can return home to commence converting the sap into gula aren.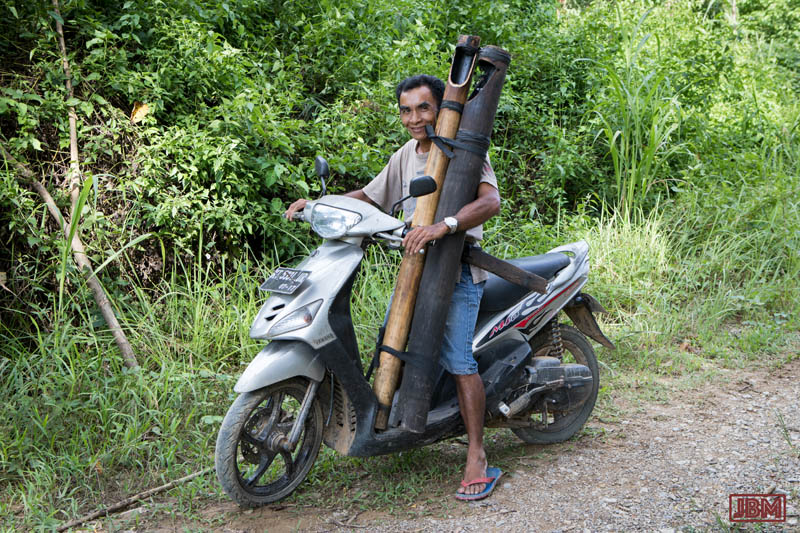 The harvested sap is emptied into a large wok-shaped cooker, placed over a small fire. The fire can't be allowed to get too hot, or else the gula aren will become black, burnt and unpalatable.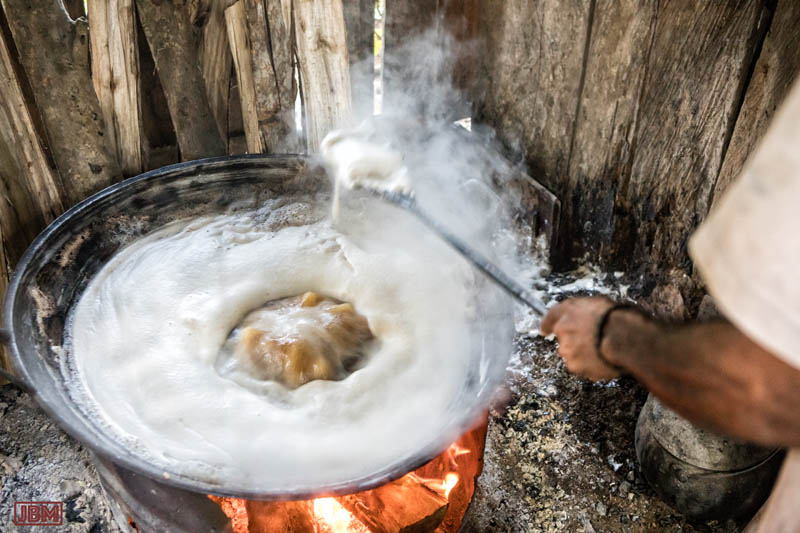 The cooking process takes about two hours, during which time the brew must be stirred very regularly so as cook evenly.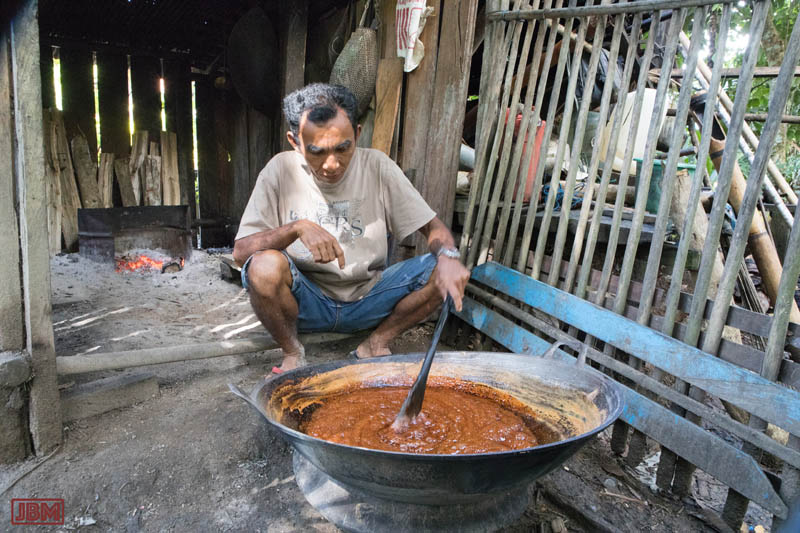 The process is complete when the mixture becomes very viscous, dark red and bubbling thickly.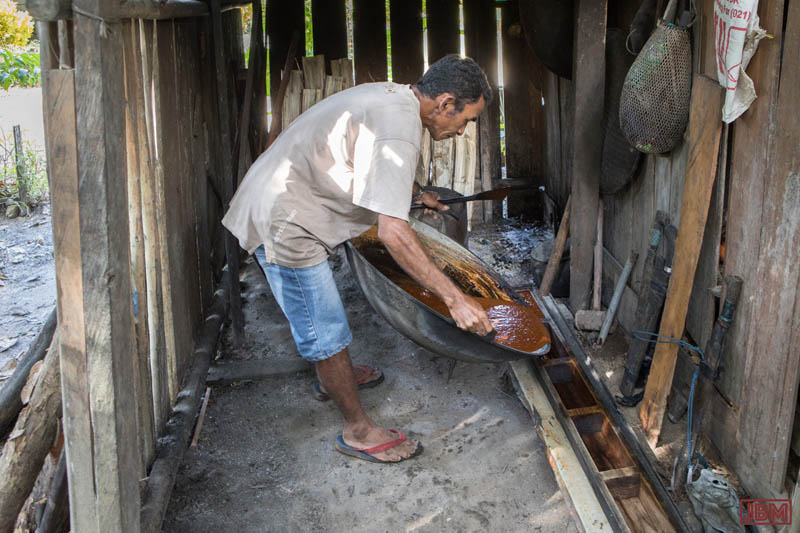 He pours the still-liquid gula aren into moulds cut into a length of timber, and leaves it to cool and solidify.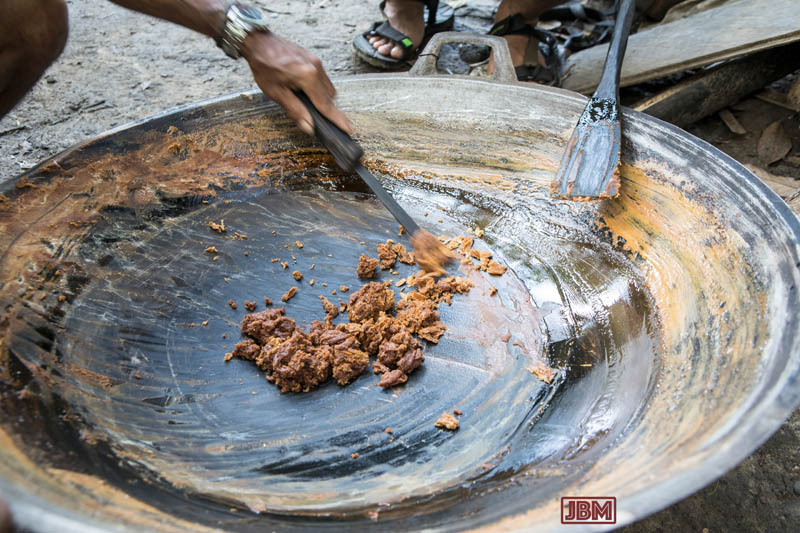 We enjoyed tasting the left-over bits that remained in the cooking pot. They were truly delicious!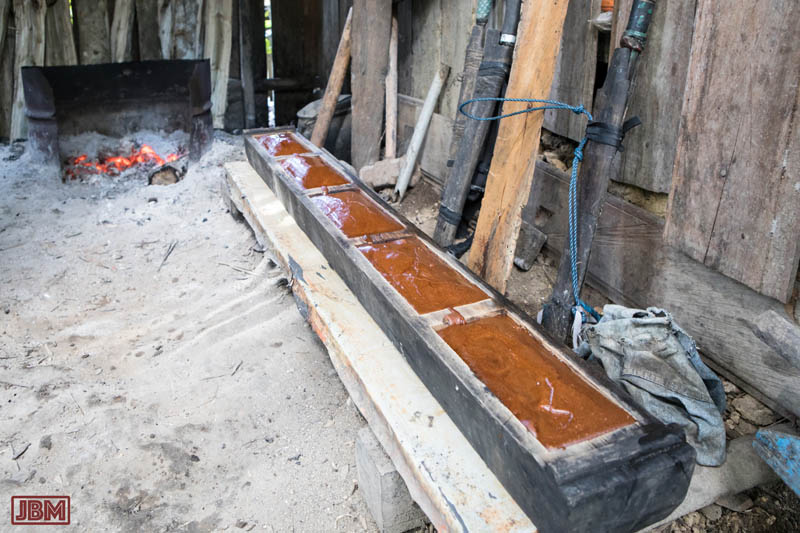 Sometimes the gula aren is moulded into cylindrical shapes, or into little dome-shapes inside coconut shells. But Pak Hairo makes blocks, with the contents of two lengths of bamboo (i.e. one day's harvest from an Aren palm) producing four blocks of the sugar. He can sell one block for Rp25,000 (a little under AUS$2.50). Not a big return for a long day's work…