The rainy season has finally and properly arrived, which (counter-intuitively) means that we are getting more clear blue skies and sunshine – with a heavy storm every day or two. We are continuing to see new and often surprising things, and to have some interesting experiences. "Toto, I've a feeling we're not in Canberra anymore".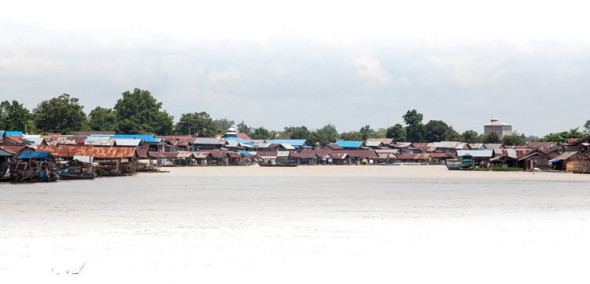 The capital of Central Kalimantan (Kalimantan Tengah, or 'KalTeng' as everyone calls it), is Palangkaraya. It's a city of almost 250,000 people, about 40km southeast of the Bukit Batu district where we are living. It's where we go, every week or two, for a taste of the high life (there are restaurants – and a coffee shop!) or to buy exotic products which can't be procured in our local area (like dairy products, breakfast cereal, toilet paper, cracker biscuits).

The city lies beside the Kahayan River, on the site of an old village/town called Pahandut. It was only established as a city in 1957, when President Sukarno decided that it should be the location for the new capital of Indonesia, in place of Jakarta. That plan sort of lost momentum – as did Sukarno himself – in 1965. But before then, lots of money was put into town planning and constructing wide gracious boulevards and roundabouts, so in a strange way it resembles Canberra (with some fairly pronounced differences…)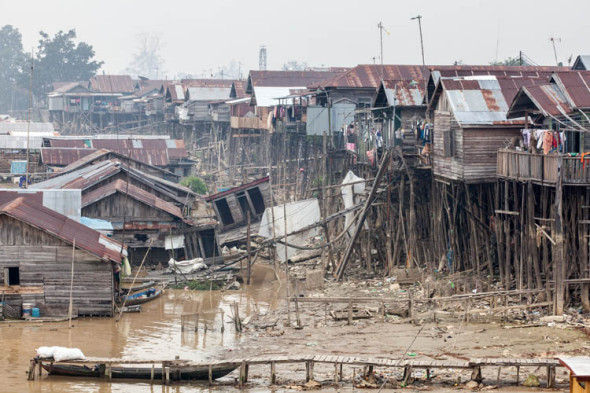 The old and low-lying part of the former Pahandut that fronts the river is known as 'Flamboyant' – presumably because there was (or is) a Royal Poinciana tree somewhere there, but no-one has been able to clarify the origin of the name for us yet. It's certainly not 'flamboyant' in the Folies Bergère sense of the word. It's on the floodplain of the Kahayan River, and soon after the start of every wet season (i.e. any day now) it gets inundated and remains under water till the rains ease in about March.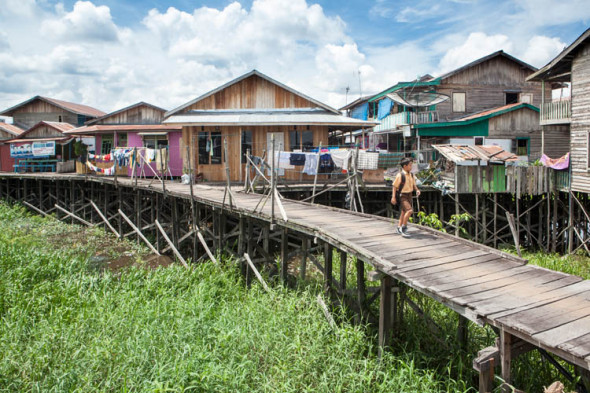 For the residents, the solution is to raise everything up on wooden stilts: the houses, the narrow streets and lane ways, the little shops, masjids and churches, schools and all.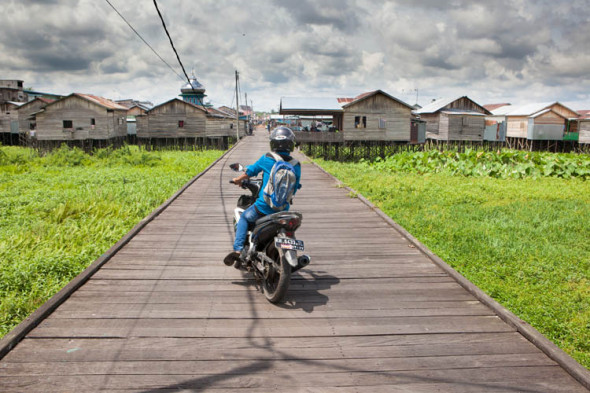 It has a surreal village-like atmosphere in the midst of the city, with the clattering sound of motorbikes (but no cars) rattling past over the wooden walkways.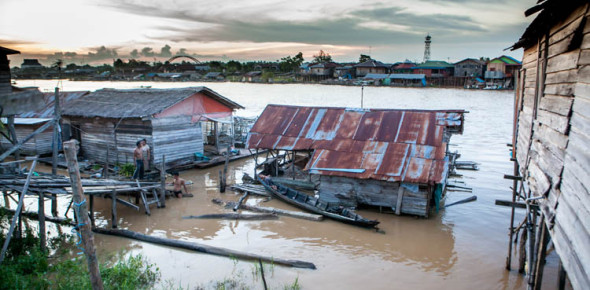 The residents are fishermen, river traders, plus teachers, shopkeepers, hairdressers and public servants just like any community. It's by no means a wealthy part of town.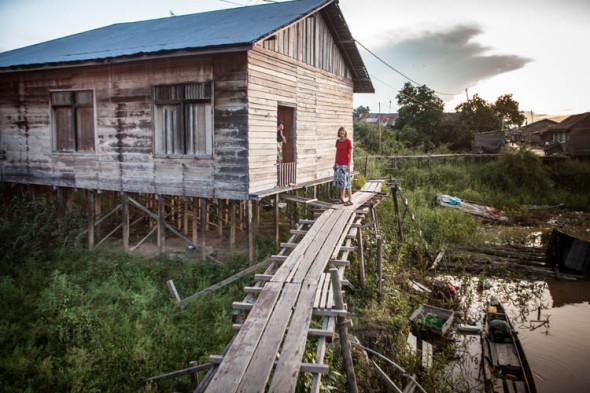 We spent last weekend in Palangkaraya, much of the time exploring the boardwalks of Flamboyant. We were greeted and questioned and photographed everywhere we went. Being regarded as celebrities (or perhaps just novelties) everywhere we go is alternately flattering, puzzling and annoying, but we certainly get to meet people. Friendly, warm, polite people. The lady in the doorway above was keen for Karen to photograph her – but she insisted on putting on a fresh blouse and jilbab for the picture.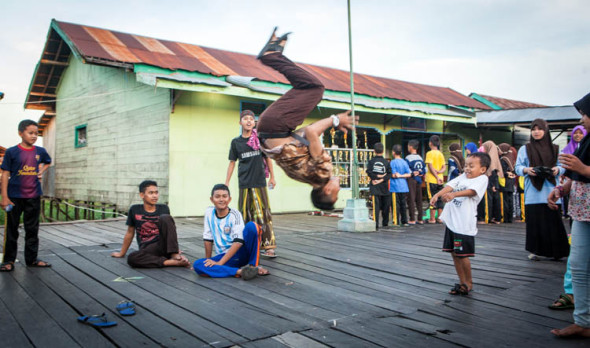 At the Islamic Boarding School the kids in the playground (yes, it is a wooden platform on stilts) shyly paused doing their gymnastics when we walked through. But after I did my 'froggy handstand' for them (you have to see it) the ice was broken, and the boys then showed us some of what they could do. In thongs!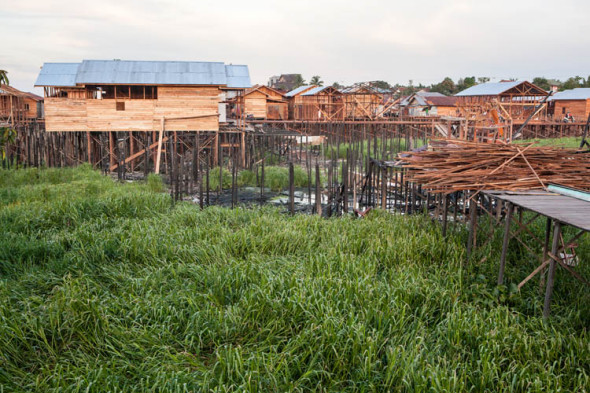 The downside of life in a wooden house on wooden streets on wooden stilts is the inevitability of fire. About once a year, a serious fire destroys a section of Flamboyant. There's no way for firefighting equipment to get in, and typically a number of house are destroyed. Apparently the government tries to get people to relocate to other places, but the residents of Flamboyant always want to return, so they rebuild over the top of the fire damage.