A couple of weekends ago, our new friend (and workmate) Lelie very kindly invited us up to visit her village of Tewang Rangkang, on the Katingan River about 80km (or 2 hours) to the northwest of here. It's a Dayak Ngaju village. (The indigenous people of Borneo, especially the interior parts of the island, are collectively known as Dayak people, and the Ngaju people are one of the many sub-groups). The occasion of our visit was for a 'Manugal' ceremony and working-bee.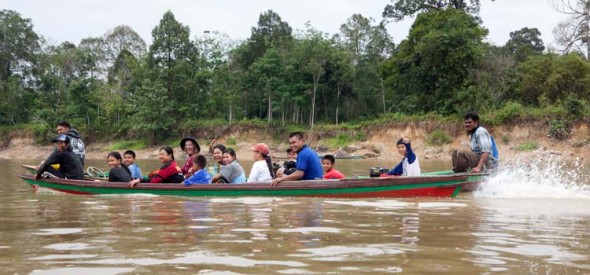 Gotong royong and Manugal. Across Indonesia, the practice of 'mutual cooperation', where a community all pitches in achieve some goal that is too big for an individual to do on their own, is very much alive. Think 'barn-raising'. They call it gotong royong, and it's part of the national ethos (although the concept got hijacked for political purposes by both Sukarno and Suharto).
Amongst the Dayak people, who still practise slash-and-burn dry rice cultivation in forested lands (ladang), everyone pitches in to help their family and neighbours to clear land for cultivation, and to plant and harvest the rice. The ceremony and working-bee at the time of planting the rice is known as Manugal.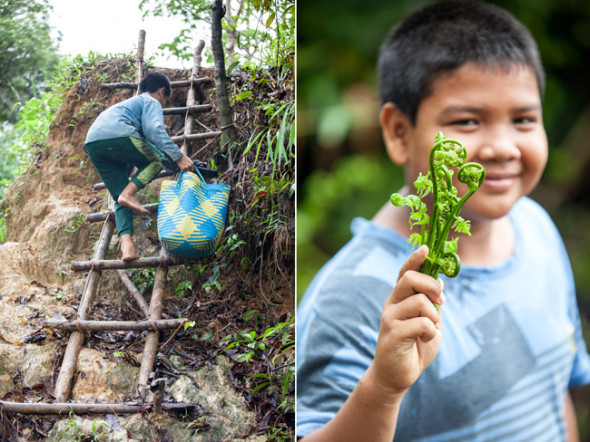 To get to the ladang fields, we first had to walk through the village and across the sandbanks to the river's edge. Some small motor-powered canoes ('ces') were waiting to ferry us across the river, where we climbed up muddy banks and ladders, then through forest, plantations of durian, bamboo and rubber trees, and finally across a rather bleak terrain of recently cleared and burnt countryside. This was where the rice was to be planted.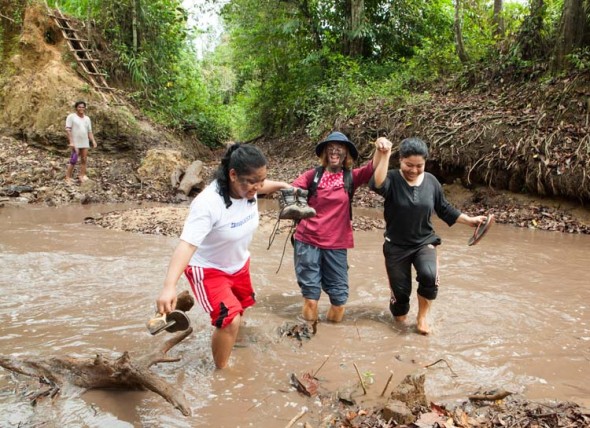 By the time we got there (about 8am) there were around 40 people assembled under a tarpaulin shelter on the edge of the field. Bags of rice were measured out into baskets to be carried by each of the planters – white, red and yellow rice. Everyone took a taste of sirih – betel leaf, areca nut and lime paste – to chew on as they started work. We walked out into the burnt field, spitting red as we went.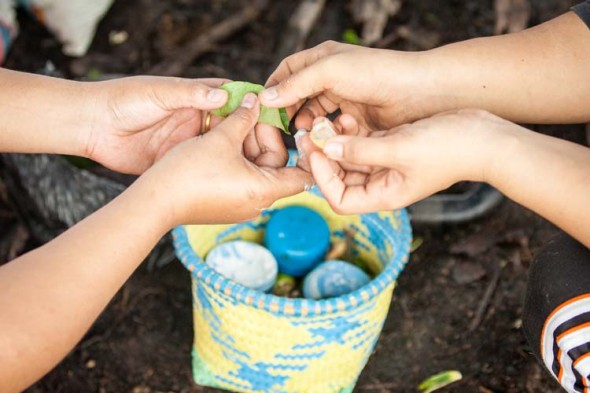 The men each took a wooden staff, sharpened at one end, and formed a loose line standing about two metres apart. We worked our way across the field. making shallow holes in the ground as we proceeded, twisting the poles to form a roughly conical depression every 30cm or so.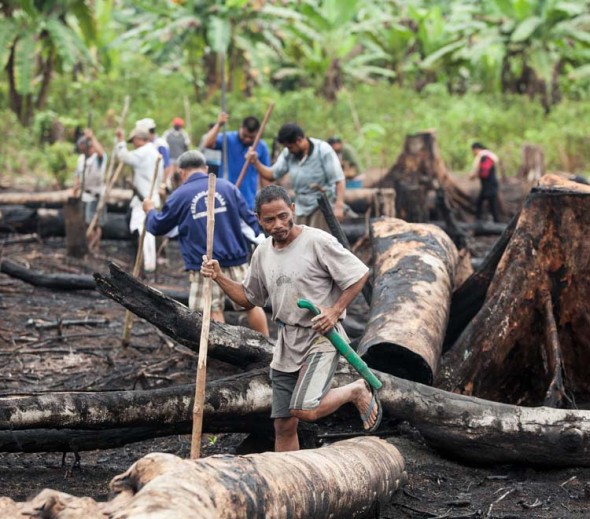 The women made a second parallel line, sweeping across the field behind the men, and dropping about 10 grains of seed rice into each of the holes. It is all pretty rough and basic: the seeds aren't covered at all, or watered in. In fact the crop is not irrigated at any stage, relying on the (usually reliable) rains from November to February to sustain the crop.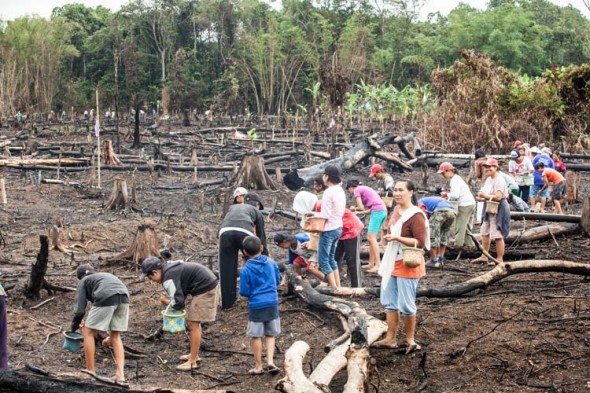 At the end of the plot (ownership boundaries are marked with string) everyone moves across to the next strip and repeats the process until the whole area is done. There are stumps and logs all over the field, and you just clamber over them and plant around them as best you can. It's not worth investing in full-on clearing, because the whole area is abandoned after a few years, or converted to growing rubber.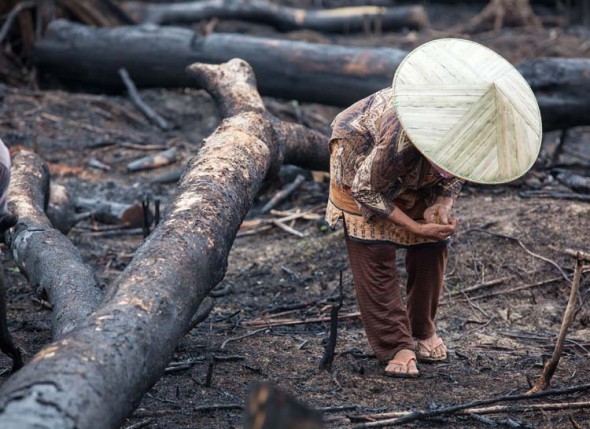 The work was done with a lot of humour and laughter, and sometimes seemed to be more about bonding the community than getting the job done. Everyone got their faces smeared with charcoal at some point in the day, and there were breaks for coffee, fried pork and rice, and sweet cakes (all delicious).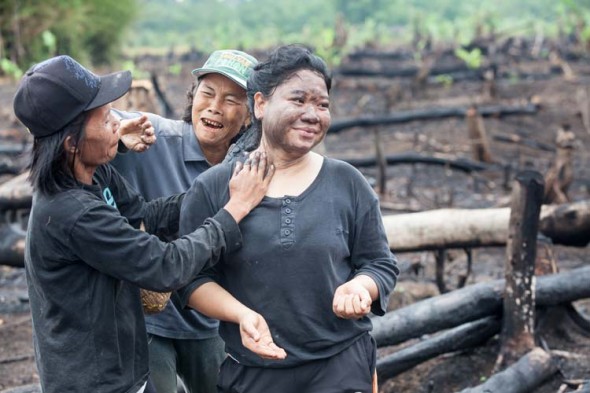 Even with the breaks, we were all finished by about noon. Just as well, as the day was getting seriously hot by then. Members of Lelie's family, especially her sister and one of her uncles, spent a lot of time explaining things to us – as well as they could with our limited Indonesian language and non-existent Dayak Ngaju!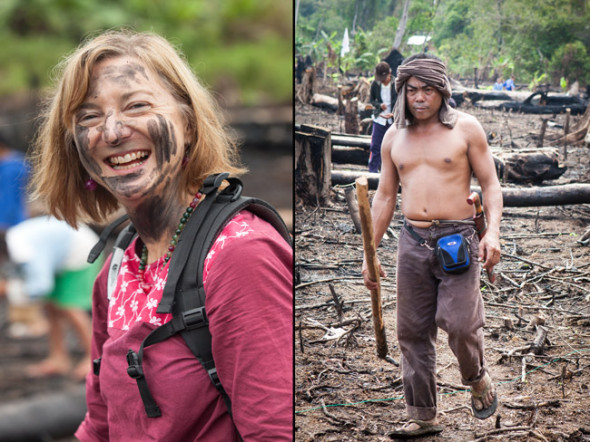 So then it was time to pack up and head back the way we had come, no longer too concerned about keeping our clothes (and faces) clean. We knew there was a mandi and a change of clothes waiting back in the village.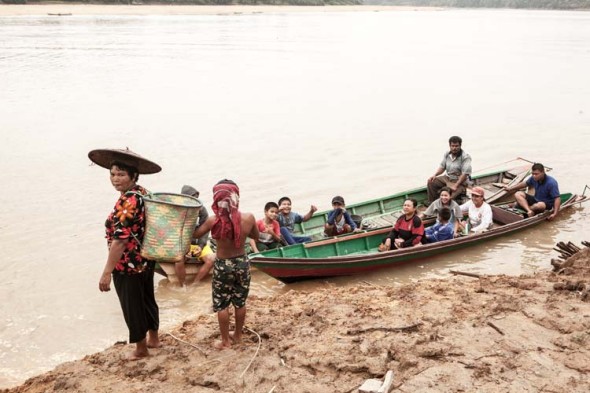 The mood was very relaxed on the way back, everyone seeming content with the morning's (modest) work effort. There was much hilarity as the three ces raced across the river, each driver trying to spray the other boats in their wake. Halfway across I was asked if I could swim. "Yes", I replied. "But my camera can't". This meant I got excused from the all-in splashing and dunking battle that erupted as we reached the home shore.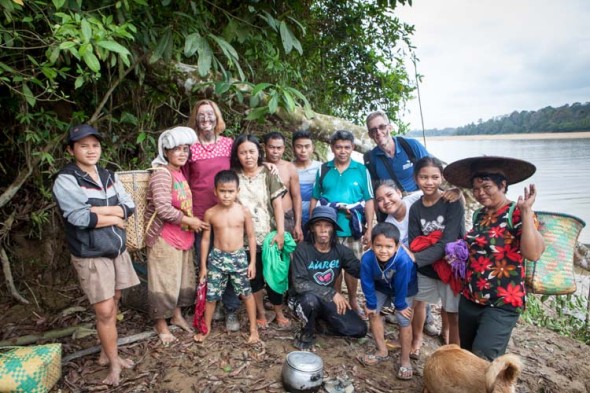 We stayed back in the village for a wash, lunch, and to meet some of Lelie's huge extended family. (Our standing joke is that she doesn't have a pohon keluarga (a 'family tree') like most people – instead she has a hutan keluarga (a 'family forest')!
As we headed back home later that afternoon, feeling warm inside from all the hospitality (and good food!), we had no idea that we would be back for a three-day visit less than a week later. But that's a story for another time.